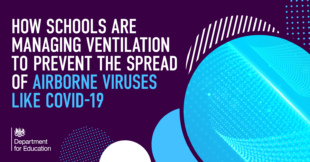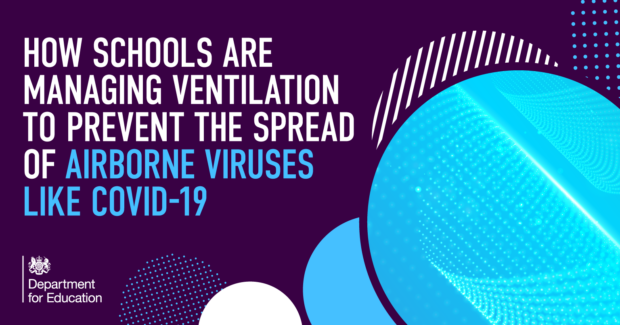 Good ventilation is key to having a healthy and productive indoor space and can help reduce the risk of viral airborne transmission, including of Covid-19. In most spaces in schools and other education settings like nurseries and colleges this kind of ventilation can be achieved by opening windows and doors. Where this is not possible, schools are advised to explore what remedial works may be required to improve ventilation.
Last year we provided CO2 monitors to all state-funded schools and other childcare settings to help them assess how well ventilated their spaces were and help balance ventilation with thermal comfort over the winter months.
Where settings could not maintain adequate ventilation, they could apply for DfE-funded air cleaning units while the underlying ventilation issue was addressed. We also supported settings to purchase air cleaning units through a marketplace we set up to ensure they got a competitive rate.
At the end of this process, more than 386,000 CO2 monitors and over 8,000 air cleaning units have been distributed by the DfE to eligible settings.
Earlier this year, in January, we surveyed schools and other settings to find out how effectively they had been able to use the CO2 monitors. 96% of them were using their monitors and of those, 95% said they had been able to use them to identify when to increase ventilation. 12% of those using the monitors reported high CO2 readings of 1500ppm and above, of which the majority could be improved with quick fixes like opening windows. 3% of settings using the monitors found they had CO2 readings of 1500ppm or higher that could not be remedied via quick fixes. These were able to apply for DfE funded air cleaning units as a temporary mitigation measure to help reduce the risk of airborne transmission whilst the underlying ventilation issue was addressed.
To help us get a better idea of how the air cleaning units have been working, in March we sent a survey to 1,299 schools and other settings who had received DfE funded air cleaning units to find out how they were getting on. The survey received 192 responses and found that 79% of those who received air cleaning units are satisfied with them and 60% will carry on using them.
The CO2 monitors and air cleaning units were made available as part of our response to the Covid-19 pandemic and to reduce disruption to pupils. While the scale of the pandemic in this country has reduced, Covid-19 has not gone away so the units will continue to play a key role in making sure infections are reduced and fewer pupils and staff have to miss school. Furthermore, it is not just the spread of Covid-19 which is decreased by good ventilation – the risk of airborne infection from other viruses like colds and flu is also reduced.