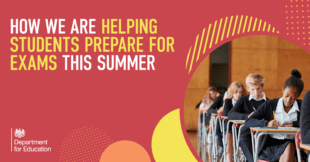 Exams will go ahead this summer as the best and fairest form of assessment.
However, we recognise students have faced disruption over the last two years and we have put in place measures to support them.
We have introduced a range of adjustments to maximise fairness for those taking exams this year. Here's what you need to know.
What has been published? 
From 7 Feb, students will be able to view information that will help them with their revision ahead of their exams in the summer
 What will be available?
For the majority of GCSE and all AS and A level subjects, students will be able to view information published by exam boards on some of the exam content, texts, topics and sub-topics, themes and skills due to be assessed.
So will students be getting the questions to their exams before they sit it?
No. The additional information aims to focus students' revision without providing exact questions that will appear.
 A common set of principles have been developed for the advance information, for example avoiding providing so much detail that answers could be pre-prepared and memorised, but the information will look different for each subject and exam board, reflecting the nature of those subjects and their assessments.
 What else is being done to ensure fairness in this year's exams?
Students will also benefit from other adaptations to exams and the approach to grading this year to mitigate the impact of the pandemic on their education.
There will be choices of topics or content in GCSE English literature, history, ancient history and geography, and a formulae or expanded equations sheet available in exams for GCSE maths, physics and combined science.
There are also changes to the requirements for practical assessments in sciences and art and design, recognising how the pandemic will have affected students' opportunities in these subjects.
What about the grading of exams this year, is it the same as before?
Ofqual's plans for grading this summer mean that grading profiles will not return to pre-pandemic levels immediately, recognising the challenges these students have faced.
This summer will be a transition year and exam boards will set grade boundaries to reflect a midway point between 2021 and pre-pandemic grading, in a way that is as fair as possible for all students, across all subjects and exam boards.
This will mean that more students get higher grades in 2022 than before the pandemic and will provide a safety net for those students who might otherwise just might miss out on a higher grade.
How will I be able to access this information?
Advance information has been published on exam boards' websites.
Ofqual has also published subject-by-subject guidance on the changes in each subject.