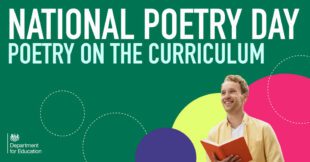 Today is National Poetry Day in the UK, the annual mass celebration on the first Thursday of October that encourages all to enjoy, discover and share poetry.
The day sparks a flurry of activity throughout the country, with events taking place in homes, schools, libraries, and public places and showcases the ways in which poetry adds value in society.
Poetry is not just celebrated on National Poetry Day however and remains a key part of the English curriculum in schools. Students are continuously encouraged to develop their creativity and embrace the power of poetry.
We know that many teachers are using creative ways to teach poetry on the English curriculum. We deliberately don't stipulate how lessons must be taught in the curriculum – we just outline the topics that must be covered – to allow teachers creative freedom.
Since 2013, the department has funded Poetry By Heart to deliver the National Poetry Recitation Competition. This competition helps to develop and support inspiring poetry teaching in schools across England and motivates pupils and teachers alike to explore our rich literary heritage.
There is a body of evidence that suggests engaging with poetry can have benefits for mental health, cultural awareness and self-expression.
Here we take a quick look at how poetry is taught in schools.
At Key Stage 1, pupils are taught to:
Develop pleasure in reading, motivation to read, vocabulary and understanding by listening to, discussing, and expressing views about a wide range of contemporary and classic poetry at a level beyond that at which they can read independently.
Recognise simple recurring literary language in stories and poetry.
Write poetry.
At Key Stage 2, pupils are taught to:
Develop positive attitudes to reading, and an understanding of what they read, by listening to and discussing a wide range of poetry.
Recognise some different forms of poetry [for example, free verse, narrative poetry.
By the beginning of year 5, pupils should be able to read aloud a wider range of poetry written at an age-appropriate interest level with accuracy and at a reasonable speaking pace.
Learn a wider range of poetry by heart.
At Key Stage 3, pupils are taught to:
Write accurately, fluently, effectively and at length for pleasure and information through several formats, including poetry.
Improvising, rehearsing and performing play scripts and poetry in order to generate languages and discuss language use and meaning, using role, intonation, tone, volume, mood, silence, stillness and action to add impact.
At Key Stage 4, pupils are taught to:
Read and appreciate the depth and power of the English literary heritage through poetry since 1789, including representative Romantic poetry.