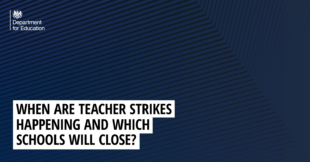 NOTE: This post was updated on 10/03/23 to acknowledge the latest developments.
The Education Secretary, Gillian Keegan, has written to teaching unions inviting them to engage in formal talks on pay, conditions and reform. A condition of these talks is that the National Education Union (NEU) pauses strikes.
Our hope is that we can find a fair and reasonable settlement that recognises the vital role teachers play.
Read the Secretary of State's open letter to parents setting out the latest on strikes here.
Here we set out what action we are taking to prevent strikes and what it means for schools:
What is the Government doing to prevent teacher strikes?
Education Secretary, Gillian Keegan, wrote to teaching unions on 21 February, inviting them to engage in formal talks on pay, conditions and reform if the NEU agree to pause the strikes.
This is the same offer that was accepted by unions representing nurses, ambulance workers and physiotherapists who all agreed to call off their strikes and are now representing their members in talks with the Government.
This offer builds on six weeks of discussions, where the Secretary of State expressed the importance of working together to avoid strike action - especially given the significant disruption to education due to the pandemic over recent years.
Before Christmas, the unions said school funding needed to be increased by £2bn. The Government delivered this rise in the Autumn Statement, increasing school funding by £2bn in both next year and the year after.
This will be the highest real terms spending on schools in history, totalling £58.8 billion by 2024-25.
The Government continues to work with the sector, including unions, to reduce teacher workload and improve teacher wellbeing.
The Education Secretary is encouraging teachers to inform their school leaders in advance whether they intend to take strike action or not, to help schools and families plan.
What dates are teachers striking?
The NEU has further strikes planned for:
Wednesday, 15 March (England and Wales)
Thursday, 16 March (England and Wales)
Previous strike action by the NEU took place on:
Wednesday, 1 February (England and Wales)
Tuesday, 28 February (Northern, North West, and Yorkshire and Humber regions)
Wednesday, 1 March (East Midlands, Western, Eastern regions)
Thursday, 2 March (London, South East, South West regions and Wales)
Will schools be closed if teachers go on strike?
In the event of strike action at a school, the school leaders or local authority that manages the school will take all reasonable steps to keep the school open for as many pupils as possible. We have produced updated guidance to help them do this and to minimise disruption to children and families.
In some schools there may be little or no impact from strike action but in others it may mean that changes are made to the way they operate. Schools will usually let parents know how they are being affected but if you are unsure you should contact your child's school.
If schools need to restrict attendance, we have asked that those schools prioritise vulnerable children, children of critical workers and pupils who are due to take public examinations (like GCSEs) and other formal assessments. Where schools are not able to provide face-to-face education for all pupils, we encourage them to provide remote education to ensure every child has access to learning.
More than 90% of schools remained open to some or all pupils during strike action by teachers on 1 February, according to latest Department for Education data. Even more schools stayed open during the regional strikes that took place on 28 February, 1 and 2 March.
Have teachers had a pay rise?
We understand the pressures many teachers, like the rest of society, are facing now due to the challenge of high inflation.
Teachers do a job that is essential to our society and they do it brilliantly. Their pay should reflect that, which is why the pay rise teachers are receiving this year is the highest in a generation.
We are awarding 8.9% for new teachers outside London and 5% for experienced teachers and leaders.
This year we expect around 40% of classroom teachers will receive pay rises through progression or promotion of between 8.5% and 15.9%.
We have also offered the unions to move into formal talks on pay, conditions and reform, on the condition that the NEU pauses its strike action to ensure talks can take place in good faith and without the disruption of ongoing action. We want to find a fair and reasonable settlement that recognises the vital role teachers and school leaders play.
You can read more about why teaching is a rewarding career here.
How much are teachers paid?
The starting salary for a newly qualified teacher is at least £28,000 and this is set to rise to £30,000.
The median salary for classroom teachers across the country was £39,500 in November 2021.
Teachers receive annual pay rises through an independent pay review process, and many teachers also see greater uplifts by progressing up the pay scales.
We're helping to make sure teachers can do this by continuing to develop once they're established in their careers.
Last year, almost 30,000 teachers and leaders started a fully funded National Professional Qualification (NPQ). NPQs are designed by education experts to build classroom expertise or develop leadership confidence and are flexible to fit around teachers' personal and professional responsibilities. You can find out more about NPQs in the NPQ Prospectus.
Do teachers get a generous pension?
Teachers' pensions are among the best and safest available – and they come with a 23.6% employer pension contribution. By contrast, in the private sector 48% of employees receive an employer contribution of less than 4%. Teacher contributions start from as little as 7.4% and a maximum of 11.7%.