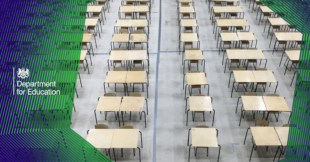 The 2021/22 academic year saw the return of the summer exam series in which pupils sat GCSEs and exams relating to other Key Stage 4 qualifications for the first time since 2019. Pupils got their results in August and on Thursday 20 October we released some of the statistics relating to these results.
The previous two years saw two different methods for awarding GCSE and vocational grades without pupils sitting exams. In both those years overall results were better than in previous years. While exams returned this year, there was a degree of assistance the pupils didn't have prior to the pandemic, reflecting the disruption they'd experienced to their education in the last two years.
As part of the transition back to the summer exam series adaptations were made to the exams (including advance information) and the approach to grading for 2022 exams broadly reflected a midpoint between results in 2019 and 2021.
These changes mean comparisons between years aren't quite like-for-like.
What does the data you've published show?
The EBacc entry rate has stayed the same compared to 2020/21 at 38.7%, however this is a decrease of 1.3 percentage points compared to 40.0% in 2018/19. The EBacc is short for 'English Baccalaureate' and it's the suite of GCSE subjects we want as many pupils as possible to study as they're the subjects that will set them up for future success in education and beyond. You can find out more here.
The percentage achieving a grade 5 or above in English and maths is 49.6% (2.3 percentage points lower than 2021 but 6.4 ppts higher than in 2019).
The average Attainment 8 score is 48.7 (2.2 points lower than in 2021 and 2.0 points higher than in 2019). Attainment 8 is a measure published annually showing the average academic performance of a secondary school. It is calculated by adding together pupils' highest scores across eight subjects.
The EBacc Average Point Score (APS) is 4.27 (0.18 lower than in 2021 and 0.20 higher than in 2019).
The KS4 disadvantage gap index has widened to 3.84 in 2022. In 2021 and 2019 the gap was 3.79 and 3.70 respectively. The disadvantage gap index relates to the difference in attainment between disadvantaged pupils and their peers.
What are you doing to narrow the attainment gap?
The attainment gap narrowed to its lowest level in 2017 but has widened in recent years.
We know the pandemic has had an impact on children's and young people's learning, which is why our ambitious recovery plan continues to roll out across the country, with nearly £5 billion invested in high quality tutoring, world class training for teachers and early years practitioners and additional funding for schools.
Schools should continue to work with parents to make them aware of support on offer, including through the National Tutoring Programme, which is supporting children from all backgrounds to catch up on lost learning and has started over 2 million courses so far