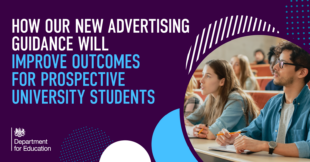 When students are choosing where to study, it is important that they are given all the information they need to make an informed choice based on the potential outcomes.
Choosing what to study can be challenging. It is an investment in their time, money and future. That is why we have announced new guidance to encourage all universities to improve the transparency and consistency of their course advertising.
Here's everything you need to know.
What have you announced?
We have announced new guidance to all universities, encouraging them to improve the transparency and consistency of their course advertising.
The aim of this is to help students make better informed choices about their future course of study and to help prevent them from being misled by course adverts not best suited to them.
This is supported by student feedback given to UCAS, which shows that students want to see more data being used in course advertisements.
How will this improve student outcomes?
The latest data shows that fewer than 6 out of 10 students would make the same choice of course and university, if they'd known what they know now.
As a result, our new guidance states that university course adverts – including digital, print, TV and radio – should include comparable data on drop-out rates and the proportion of students who go on to graduate jobs or further study.
The new guidance will ensure that all students have easy access to important information about their course prospects, helping them to make the decision that is right for them.
If a student feels they have been misled by advertising, what can they do?
Students who start a course - and feel they'd been in some way mislead about its content - would have to raise a complaint with their provider, and if they were still unhappy with the outcome, they could then take the complaint to the Office of the Independent Adjudicator.