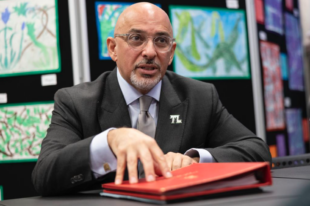 The Education Secretary, Nadhim Zahawi, has responded to the publication of the Independent National Child Safeguarding Practice Review Panel's report following the tragic deaths of Arthur Labinjo-Hughes and Star Hobson.
Education Secretary, Nadhim Zahawi, said:             
Nothing is more tragic than the death of a child, but when that child dies as a result of abuse or neglect it is incomprehensible. The deaths of Arthur Labinjo-Hughes and Star Hobson appalled the nation and highlighted the urgent need for action and change.

I commissioned the Child Safeguarding Practice Review Panel to conduct an independent national review into Arthur and Star's deaths because the enormity of the two cases made clear that there remain some very hard questions to answer about how we protect vulnerable children, despite the improvements made since 2010.

I would like to thank Arthur and Star's extended families for their important contributions, under extremely difficult circumstances. I'm also grateful to Annie Hudson, chair of the Panel, her team and all the professionals in Bradford and Solihull who engaged with the review.

As Education Secretary, but also formerly as Children's Minister, I have met and worked with some of the most dedicated social workers in the country. Every day they protect and support families without public recognition. But we must be honest about where we can strengthen the system so that it helps, never hinders, good decision-making for everyone involved in child protection: the police, health services and children's services.

We must waste no time learning from the findings of this review – enough is enough. I will set up a new Child Protection Ministerial group, a first and immediate step in responding to these findings, before setting out a bold implementation plan later this year to bring about a fundamental shift in how we support better outcomes for our most vulnerable children and families.
For more information about what we are doing to keep children safe, please visit: How we're supporting families in need and keeping children safe - The Education Hub (blog.gov.uk).